OMNIFinger™ Articulating Endoscopic Scissors
OMNIFinger™ Family – Challenging ligations are a thing of the past.
Easy access and excellent visibility
Articulating Endoscopic Scissors
Disposable Instruments 5mm
Our complete range of lightweight disposable mono-polar laparoscopic instruments designed to fulfill all the crucial requirements of endo-surgens is now put on the market. The full range includes graspers, scissors and dissectors.
Now we also offer bariatric endoscopic instruments!
Limited-use instruments
Apart from the disposable instruments we offer the same range of the limited-use™ products. They come in the same rich range and are aimed at meeting the requirements of all endoscopic surgeons. The full range of graspers, scissors and dissectors is available.
3mm disposable laparoscopic instruments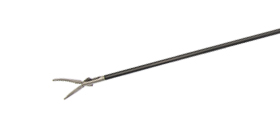 Our range of lightweight, disposable, mono-polar 3mm laparoscopic instruments is our newest product on the market and consists of Maryland dissector, atraumatic fenestrated grasper (with ratchet) and Metzenbaum (curved) scissors.
Reusable laparoscopic instruments
Long-lasting performance. Grena offers an extensive selection of reusable detachable monopolar laparoscopic instruments available as well as in standard and bariatric lengths.
Laparoscopic Instruments – ending types
Variety of jaw patterns of reusable inserts of scissors, graspers and dissectors makes the most complicated minimally invasive procedures possible. These include such specialities like General, Bariatric, Colorectal, Urological and Gynaecological surgery.