The posterior approach to the lumbar column remains the workhorse for exposure of the entire spine, from the base of the cranium to the sacral region, for minimally invasive and larger deformity interventions alike. Continuous evolution of the technique rooted in technique and instrumentation innovation have been constant since its inception in 1944 when Briggs and Milligan first described the approach. Phantom LS Product Series from TeDan Surgical Innovations continues to lead the way in uplifting numerous posterior surgical approaches addressing areas of constant surgical unmet needs. Focused on faster procedure times driven by intuitive incremental product innovations, Phantom LS, HANG 10 and Phantom ML Tubular Systems are the armamentarium mainstay for the surgeon preferring this proven surgical approach.
Access Systems
Phantom LS Posterior Lumbar Surgical Access System
Phantom LS™ Front-Load Posterior Lumbar Surgical Access System (LS-1700 series) is the premier mid-line retraction system ideally suited for multi-level, posterior lumbar instrumented procedures enabling an elliptical incision for increased pedicle access. Its patented Sure-Lock™ Front-Loading Retractor Blade Holder enables a greater retractor frame offset from the incision facilitating exposure and access to the pedicles, crucial in instrumented PLIF surgical procedures.
Phantom HANG 10 Posterior Lumbar Surgical Access System
Phantom LS™ HANG 10 Retractor System employs a uniquely shaped retractor blade to sit directly atop the facet capsules to facilitate PLIFs or laminectomies through a minimally invasive midline incision.
Phantom MC Posterior Lumbar Surgical Access Systems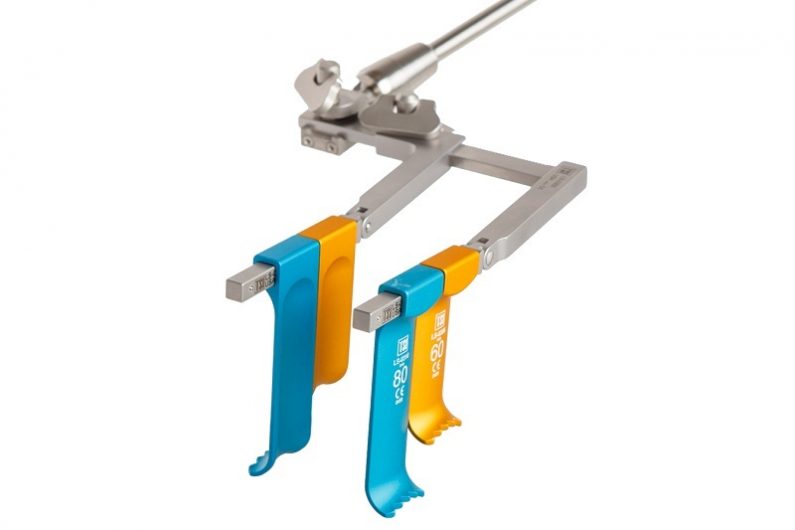 Phantom MC Lumbar Surgical Access System (LS-1800) provides optimal exposure with a minimum incision for microdiscectomy procedures. Multiple lengths and widths of tissue and muscle retractor blades combined with hooks and toothed hooks enable seamless access to the anatomy in midline or off-midline for micro lumbar surgical procedures.
Phantom ML MIS Lumbar Instrument Set
Phantom ML™ MIS Instrument Set facilitates PLIF, TLIF and spinal decompression procedures. All instruments include a bayoneted shaft to improve visibility to the surgical site. Additionally, all Phantom ML MIS Instruments feature with a non-reflective, titanium aluminum nitride coating that prolongs the life of the instrument. Phantom ML MIS Instrument Sets are compatible with TSI or other commercially-available retractor systems.
Phantom ML MIS Lumbar Surgical Tube Access Systems
The tubular retractor has revolutionized and changed the perspective of spinal surgery. It allows the surgeon to treat focal compressive and unstable lesions without disturbing the normal anatomy. Phantom ML™ Tubular Surgical Access System integrates this design concept and elevates the surgeon experience through color-coded tube selection approach, compatible, shadow-less cold LED illumination and articulating arm technology to fix access trajectory to the targeted disc or facet joint. The MIS Tubular Access System is available in three different options: The Classic Flat-Bottom Tube Set (ML-2008), the Beveled Tube Set (ML-2018) and the more streamlined Essentials Set (ML-2007).
Phantom Multi-Bite Kerrison Rongeurs
TSI's Phantom Multi-Bite Kerrison Rongeurs are skillfully designed to save precious time and resources in the OR during a microdiscectomy, decompression, or other spinal procedures. The combination of bone-cutting through a precise bite design and bone collection through an attached a suction device, allows the surgeon to maintain their focus on the operating site. The pre-packaged sterile Phantom Multi-Bite Kerrison Rongeur is available in lengths of 200 and 250mm and bite sizes of 2, 3, and 4m